A New Camp Nou
The Espai Barça jury unanimously selects proposal from Nikken Sekkei + Pascual i Ausió Arquitectes team
The architects speak
The marquee by Francesc Mitjans, Josep Soteras and Lorenzo García Barbón inspired the façade of the New Camp Nou. The marquee disappears inside the stadium and reappears on the street side, inside out, forming the outer eaves, which then become the ceilings of the concourses, services and terraces, creating an open façade to the esplanade.
The New Camp Nou will be singular and unique, for it will be different, innovative and with a strong personality.
THE WINNING TEAM
The Japanese Nikken Sekkei company has been around for over 100 years and is one of Asia's leading architectural and engineering studios. This company designed the Saitama Super Arena, the Big Swan Stadium in Niigata and the Tokyo Dome, all in Japan. This team is working with the Catalan studio headed by Joan Pascual and Ramon Ausió, who have a long and proven history of experience in Barcelona involving residential buildings, office blocks and hotels, such as Hotel Diagonal Zero.
The New Camp Nou's characteristics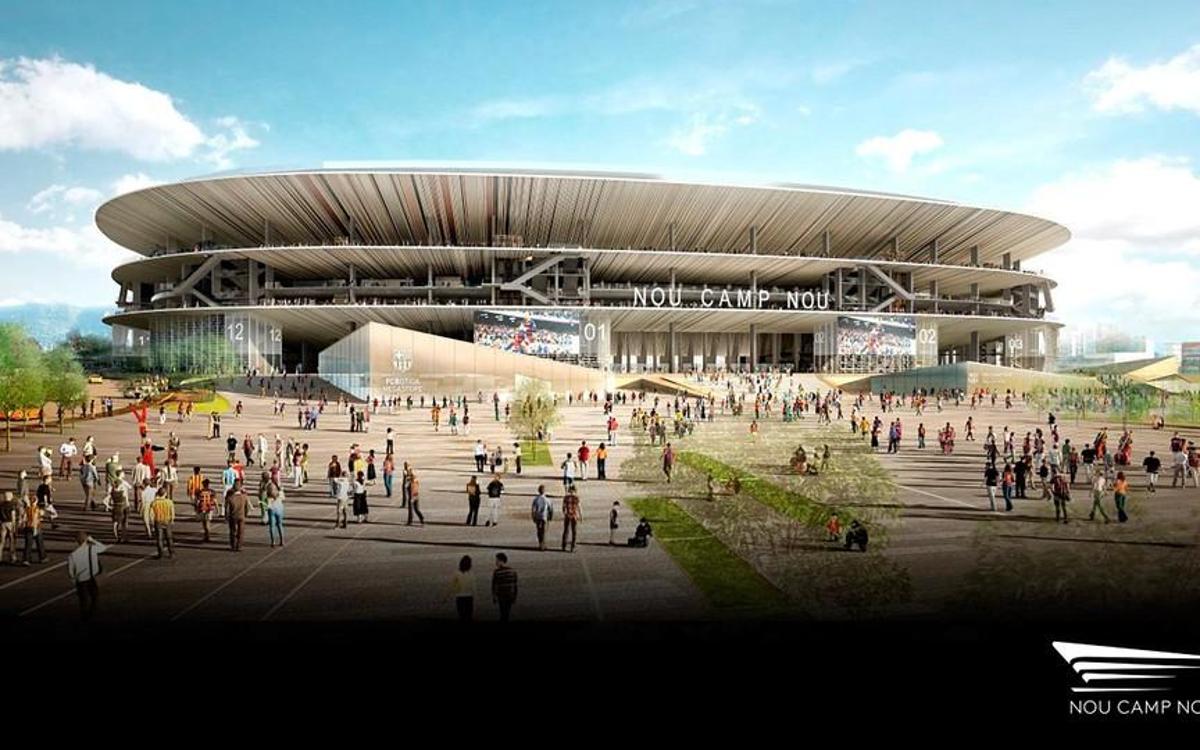 Nou Camp Nou
The new stadium will be open and covered, comfortable and accessible and will adapted to people's needs and to the modern age
We take a look at the key components of the winning proposal:
Recover excellence with a stadium for approximately 105,000 spectators with modern comforts and services
Open façade consisting of three open concourses protected by pitched eaves
The New Camp Nou is seamlessly integrated in the Espai Barça Campus
Maintains a level access to the street all around the stadium
12 vertical circulation cores with stairs, escalators and lifts, with access to the second and third tiers
A spacious sky deck over-looking the seating bowl and the City
An integrated and open space for the city
A sustainable stadium, smart and green, harvesting water and energy from the sun.
It will be a stadium adapted to modern times and people.
OPEN
Eaves create three concourse rings to accommodate food and beverage with spectacular views, forming an open façade where members and fans will be the protagonists.
Mediterranean light will filter through the roof and open façade. Spectators will be protected from wind and rain by adequate glass partitions placed in strategic positions.
SPACIOUS
The stadium's perimeter will have a 360 degree, large atrium located at street level with entrances to the first tier
Ease of perimeter access using 12 vertical circulation cores consisting of stairs, escalators and lifts, and closed by a glass façade on the ground level
Efficient, easy and barrier free concourses on all levels.
ROOF
The New Camp Nou will expand its capacity to approximately 105,000 spectators with all seats being covered.
The roof will protect us from the rain and direct sunlight, and will provide visual comfort and improve the interior acoustics
The new roof will have a surface area of more than 47.000m2.
The roof structure will be constructed with steel cables, and cladded with ETFE, PTFE and polycarbonate.
It will collect rainwater to water the pitch and energy from the sun to power the grow lights
The roof will include the latest technology in scoreboards, pitch lighting, speakers and WiFi access points
The roof will minimize noise impact on the neighborhood
COMFORTABLE
More and better distribution of food and beverage concessions, merchandising and all services in general.
Designated family areas in the third tier
Smart stadium with digital tickets, wireless payment systems, intelligent turnstiles and expanded WiFi and mobile coverage.
ACCESSIBILITY
New wheelchair and companion seating positions spread throughout the stands in good locations
100% accessible stadium
Improved services and wayfinding for seeing and hearing impaired spectators
New elevators and escalators for improved vertical circulation to each seating tier
New toilet facilities and concessions for all spectators
Construction and sustainability phases
We take a look at the different construction phases that Camp Nou will undergo in the next few years.
FIRST PHASE
Demolition of Tier 1 North Goal and Lateral
Construction of new Tier 1 North Goal & Lateral completed
Construction works in goals reaches concourse level 1
Protected tunnels for spectator access and safe egress prepared for match days
Demolish half of the ramps on Lateral side
Excavation pit in front of Tribuna stand
Pitch exchanged if necessary
SECOND PHASE
Some basic vertical circulation cores around perimeter ready for use
New Tier 3 goals available for spectators
Scoreboards moved to the top of the new Tier 3
Compression ring for the roof erected at goals
Construction works Tribuna side reaches concourse level 1 and spectators below circulate safely
New VIP boxes at North Goal and Lateral are ready for use
New museum completed in front of Tribuna stand
THIRD PHASE
Demolition of Tier 1 South Goal and Tribuna
New Tier 1 South Goal and Tribuna completed
Construction works in 4 corners reaches concourse level 1 and spectators below circulate safely
New seats are installed while aisles are widened
Works on Tribuna and Lateral side concourses continue
Pitch exchanged if necessary
FOURTH PHASE
Lateral and Tribuna Tier 3 completed
Compression ring for the roof is completely erected
Outer bays of existing Marquisina roof removed followed by complete demolition in early summer
Preparation for cable net erection started
Start erection of the eave façade
New VIP boxes at South Goal and Tribuna are ready for use
FIFTH PHASE
New seats are installed while aisles are widened
Cable net for roof erected
Erection of catwalks and roof cladding ongoing
Erection of scoreboards at roof front edge
Continuous erection of the eave facade
New pitch installed
SIXTH PHASE
Ongoing interior works, wc's and concessions, completed
Vertical circulation cores are equipped with elevators and escalators
Erection of roof cladding finished
Erection of the eave façade finished
New concourses and VIP areas in the stadium are finished
SUSTAINABILITY
Espai Barça will be constructed with a transversal, global sustainability strategy for all of the Club's facilities in Les Corts (New Camp Nou, New Palau Blaugrana, and Campus Barça) and the Training Facility in Sant Joan Despi (New Miniestadi).
How will it affect members and season ticket holders?
The games will still be played at Camp Nou, the waiting list for season ticket holders will be reduced and the new seats will be more comfortable amongst other benefits
BENEFITS
Improvements will be carried out while continuing to hold matches. Members will not have to go to another stadium.
The increased capacity will allow many members on the waiting list to become season ticket holders.
Opportunity for members (relatives and/or friends) to group together in one location.
New seats with improved comfort.
Safer accessibility and mobility to the stands with wider and more accessible vomitories and aisles.
A nou camp nou
THE STAND REMODELLING
There will be changes in the allocation of seats. In 18 months, the Club will make a proposal in accordance with the new design of the stands.
Main changes:
Fewer seats in the first tier, but with better visibility of the pitch and the stadium.
The third tier will have more seats.
The required increase of the aisle's clear width will affect the capacity for each seating block.
The capacity of each stand will be optimized in order to incorporate improvements.
MIGRATION
Is the re-location process of season ticket holders from their current seat in Camp Nou to the New Camp Nou.
FCB's Social Department has started reviewing the migration process, advised by an expert in stadium migration.
Priorities: Simplicity, ease and customization with a clear, fair and transparent process
This process will be guided by 5 defined values:
Detailed and periodic communication
Personalized assistance at the OAB to choose a new location, taking into account:
Prices, features and services nearby.
Location and view of the pitch from the seat, with 3D simulations
Access route to the seat
Mobility options from the seat
Family grouping and the needs for reduced mobility will be prioritized
Members can re-locate to group seats with other members or relocate to opt for different prices and/or services
When the migration process for the existing season ticket holders is concluded, members from the waiting list will select their seat from the remaining inventory.
A New Camp Nou integrated into the city
The Espai Barça is an open and integrated space in the Les Corts neighbourhood of the city with less barriers and more accessibility
The New Camp Nou will be amply spaced without vehicles. We take a look at the principal characteristics of integrating the stadium into the neighbourhood and the city:
The Espai Barça Campus is an open and integrated quality space in the District of Les Corts and Barcelona, wide, tree-lined, with street furniture, bike lanes, etc.
Fences and barriers are minimized to the extent that security concept is respected.
No walls between the street sidewalks and Espai Barça Campus making it more permeable.
The 3,500 underground parking garage affords a large esplanade where there will be the Museum, la FCBotiga Megastore, the Fundation and other complementary guest services and the Campus.