Leo Messi will miss the next league match after his injury in Paris and his availability after that will depend on his progress
The Club's medical services have revealed that Leo Messi's hamstring injury will definitely rule him out of this weekend's game against Mallorca, whilst his availability after that will depend on how the injury progresses.
The Barça number 10 felt a twinge in his right hamstring towards the end of the first half last night and failed to reappear after the break, with Cesc taking his place.
Similar injury five years ago
The last time Messi suffered a similar injury was on March 4th 2008 against Glasgow Celtic in the second leg of the Champions League quarter finals and on that occasion he was out for five weeks.
His last muscle injury came in November 2009 in a game against Athletic Bilbao when he pulled a muscle in his left thigh, which meant he missed the following week's important Champions League game against Inter – though the team won 2-0 anyway. He suffered a similar injury on March 29th 2011 when he was away with Argentina, although he didn't miss any games with Barça as a result.
Seven years without coming off at half time
Messi was taken off a t half time in Paris - the first time that has happened to him since February 5th 2006 in the game against Atletico Madrid at the Camp Nou, when then boss Frank Rijkaard brought on Giuly and Ezquerro for Messi and Van Bommel, as the team sought to pull back Fernado Torres' opener for the visitors.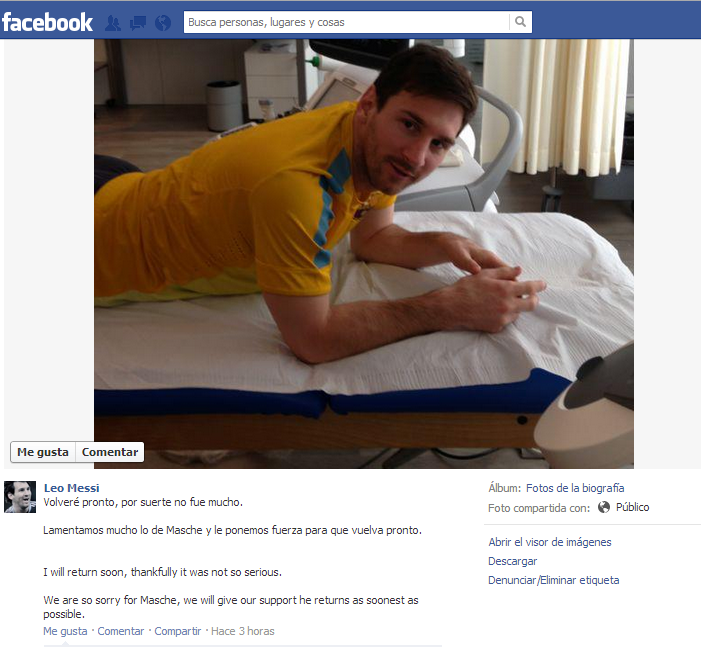 .