In an extensive interview with the Barça media, Luis Suarez speaks about his aspirations at his new club and reflects on four months of forced inactivity

Looking forward to finally making his official debut, he says that "If out of the 19 teams in La Liga, I get to return to action at the Bernabéu, there must be some reason"
Luis Suárez has spoken to Barça Magazine in an in-depth interview in which he explains how he has dealt with these four months of forced inactivity following the Giorgio Chiellini incident at the World Cup and gives plenty of clues to his human life outside football.
You must be counting the days for your return and being able to feel like a real footballer again...
"When I have gone to the last few games that the team has played I've noticed how I'm getting more anxious to play and help them out. What I have to do now is be there to encourage them, to be at their side and wait, because there's nothing else I can do. I hate feeling so impotent because I can't do anything to help them."
As a footballer, how have you coped with these four months without playing?
"The first two months were the hardest because I didn't feel like a footballer. That was the worst part. It is always good to accept your mistakes but what angered me most was not feeling like a professional, not feeling like another worker, like other footballers do. That's what hurt me the most."
How do you feel about getting back out on a football pitch? You're surely been dreaming of this...
"It hasn't sunk in yet. I don't believe it's true yet. I did play 15 minutes of the Gamper but to be honest, it felt like I was a guest player. I didn't really feel like a Barça player. I'd only just arrived in time for the Gamper and I was still a bit nervous. I imagine what it'll be like to pull on the shirt, to be with the rest of the team in the dressing room before the match, getting kitted up to play, and as chance would have it, in such a stadium. It's a huge coincidence but I'm looking forward to the experience. You know, I'm the kind of person who believes that things happen for a reason, and out of all 19 team in the league, it's precisely against Real Madrid at the Bernabéu that I'll make my comeback. There must be a reason."
You are Barça's fifth Balon d'Or winner after Krankl, Stoitchkov, Larsson and Henry. You scored 31 goals last season to break the Premiership record. Was it frustrating not to win the league with Liverpool?
"Personal success is always welcome and makes you happy, because that's recognition of the good work you have done. But I put the team ahead of that and last season Liverpool came so close to winning the Premier League, which would have been spectacular. I appreciate all the work the team did. But I missed six matches and scored all those goals in the Premier League without being the penalty-taker. I really could leave happy because if I hadn't had the attitude and mentality to lead the team, I don't think Liverpool would have done as well as they did. Getting back into the Champions League was another target I had in mind."
I did play 15 minutes of the Gamper but to be honest, it felt like I was a guest player. I didn't really feel like a Barça player
You got more than 100 goals for Ajax, stats that put you up there with Cruyff, Van Basten and Bergkamp. Your first Champions League game is against Ajax. Is that destiny too?
"There are so many coincidences, and in Amsterdam of all places! To go back there after so much time and to return to the Champions League against the first team I played the Champions League with, Ajax, and for the team I have dreamed of all my life, which is Barcelona! Yes, it's destiny again! It will be a very special game for me, to meet up again with all the people at the club, and the fans. I love all of that."
You were Ajax captain at the age of 22. That says a lot about you.
"I went to Ajax in 2007 and became captain in 2009. The manager, Martin Jol, liked my way of doing things and thought it would benefit the team. Being responsible for a team like Ajax is also motivating. I thought the language-barrier would be a problem but the thought never entered the manager's head. All he said was that I had to lead the team and try to give it my best. It was something very unique for me, historical at the time considering my age – to be captain of Ajax, one of the biggest teams in the world."
Although some people might not believe it, there are strikers who prefer to set up a goal for a team-mate if they are better positioned
You have not scored less than ten goals in a season since your first tear at Nacional (2005/06), and your record was 35 goals for Ajax in 2009/10. Are goals your obsession?
"What a striker likes best is to score goals and doing that depends on their quality, their confidence, their instinct at the right time, opportunism… But a striker is also a team member and in my case I also like making nice moves and providing passes for my colleagues to score. Although some people might not believe it, there are strikers who prefer to set up a goal for a team-mate if they are better positioned. In the teams I've played for, I've always tried to help not only with goals but also with assists."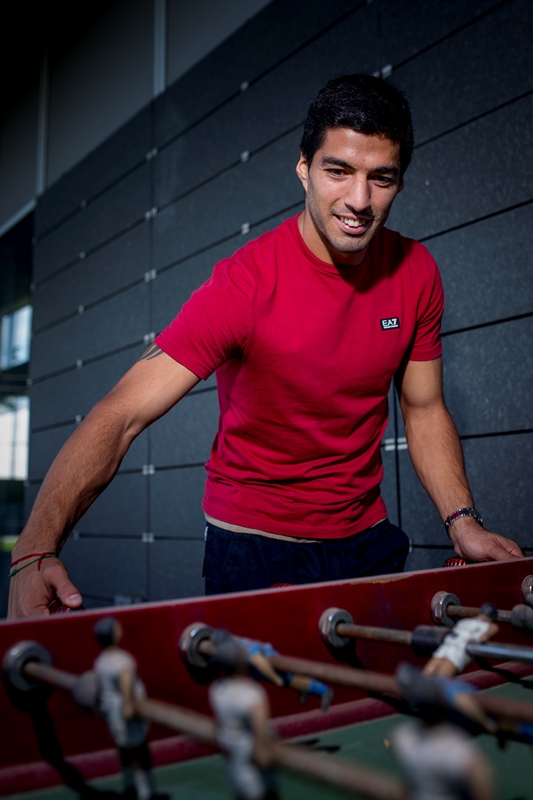 You are considered a centre forward but last season you spent a lot of time on the wing. At Barça you'll probably also need to be more mobile. Do you feel comfortable playing that way?
"Some people see me as a centre forward and others as a forward, but even if I play at centre forward I never stay there all the time. I'm always moving around and don't like to be still. When we have the ball, I like to move all around the attack. I don't just want to be in the area. But you have to listen to what the coach wants and asks for and try to help the team however you can."

You're now in the same squad as players like Messi, Neymar, Xavi, Iniesta and Sergio. Barça has one of, if not the, best threesomes in attack in the whole world. What does that mean to you?
"What I'm thinking of doing is playing again and helping the team. To win my place in the starting eleven and to get the manager to see that I have come here to offer something more that can help Barça to win titles. But the quality of the players here is incredible. It's admirable."
Can you tell that in training?
"Yes, of course you can tell. You watch the games and see how good the players are, and training with them confirms what you've seen in those matches. To see the passes that players like Leo, Neymar, Xavi and Iniesta make! They're all top quality players and when you think it'd be impossible for them to make a pass, you are stunned to see that they do. Sharing training and day-to-day life with those people is spectacular."
How did you deal with not being able to train with the team?
"I was in the gym with a fitness coach. We trained on a 10x10 rectangle, and it was difficult to avoid people seeing you and taking pictures. That was hard to put up with, but I also knew that I was working for myself because I'd had a meniscus operation just before the World Cup that I was still recovering from. So I wasn't 100 per cent fit to do highly demanding work. First I had to get my knee better and then work on improving other fitness aspects, because I couldn't do much of that kind of thing. I could go out and run but I had to try to avoid certain things. My mentality was one of working hard so that I'd be at the right level when I finally got to train with my team-mates."
What should the fans expect from Suárez?
"All I can say is that I have arrived with the desire to be a success at Barça, that I am hungry to win titles. I haven't played in Europe for a few years and I want to do the best I can in every game. I am not giving anything away, because nothing in my life was given to me, and now I have the chance to play for team that I have always wanted to play for, and it's a chance I intend to make the most of. I want to show the fans that I want to be a success at Barça and to help my team-mates as much as I can."
You play for Barça now but there was a time when you were thinking of giving up football...
"The early years were hard. At one time, at Nacional of Montevideo, when I was 14 years old, they told me I wasn't needed any more because that season I hadn't lived up to the club's expectations. I had gotten into bad company and I had to distance myself from all that and focus on my football. There were people at Nacional who helped to get me one last chance, and it was also then that I met Sofía and she guided me back onto the right kind of track to benefit my career."
It is good to accept that you have made a mistake and that's what I did
Do you remember what Ricardo 'Murmullo' Perdomo said?
"Perdomo was youth manager when I was 14. I moved from we call 'seventh' there, the year that didn't go well, to 'sixth'. And Perdomo told me that if I didn't concentrate on my career, I would miss the train. And that was the year when things started to take off."
Your temper has caused you several problems over the years. Do you regret anything?
"When I say I'm sorry it's because I regret something. Being sorry implies regret. But they have also sometimes judged me on things that aren't true, such as the racism thing. I was accused without evidence and that's what grieved me the most. The others were actions when it was me who did wrong. I accepted that and begged forgiveness, but the racism thing, when I was accused without evidence, that did upset me."
Was it a weight off your mind to apologise for what happened at the World Cup?
"It is good to accept that you have made a mistake and that's what I did. I left it a few days because you have to remember that I'm only human and sometimes it's hard to face the truth. I found it hard to take in and to realise what I had done. Those were days when I didn't want to know about it. I just wanted to be with my wife and children, who supported me through that time. I didn't want to listen to anybody, or speak to anybody. I didn't want to accept it."