The FC Barcelona facilities have hosted the presentation of a trip organised by the Agència Catalana de Turisme to promote the country around the world via the social network Instagram
On Thursday, the FC Barcelona Museum was the venue for the welcome party for the Catalunya Experience, the journey that the Agència Catalana Turisme (ACT) has organised with distinguished members of social networks around the world to promote Catalonia as a tourist destination. The 11 participants, from Europe and the United States, are all major figures on Instagram, a photographic social network with 50 million users around the world.
The trip by these 'instagramers', who have more than 500,000 followers between them, started at FC Barcelona and this week will also be visiting other places of interest in Barcelona, the Costa Brava, the Maresme, the Costa Dorada, the Terres de l'Ebre, Central Catalonia and the Lleida Pyrenees. The journey can be followed in real time at http://blogtrip.catalunya.com.

The director of the Agència Catalana de Turisme, Xavier Espasa, says that "this new means of promotion consists of organising trips to familiarise globally influential 'instagramers' with different destinations and companies over the forthcoming months and years, and is becoming a consolidated formula in much the same way as travel blogs".
"FC Barcelona is proud that the Government picked the Museum as the starting point for this trip to promote the country", said Jordi Penas, director of the FCB Museum, who introduced the event to a large group of participants in this new technology. Also in attendance was the creator of the community Instagramers.com, Phil González, and National Geographic photographer, Tino Soriano, who gave a master class on digital photography.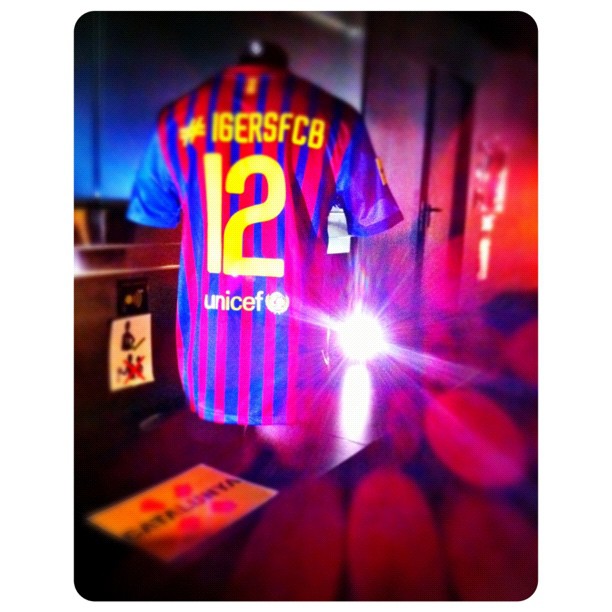 Photo exhibition
The welcome at the Barça Museum also involved the launch of a photography competition about Catalonia on Instagram, in collaboration with 'Instagramers Catalunya'. The contestants have to upload their pictures to Instagram and label them with the hashtag #catalunyaexperience. From all the published photos, ACT will select 300 and exhibit them at the Palau Robert in Barcelona between October and November of this year.
The presentation of the event, supported by FC Barcelona and Estrella Damm, was attended by over a hundred 'instagramers' who took plenty of pictures labelled #catalunyaexperience i #igersFCB around the Museum and Stadium. The most voted for photo, by Pilar Junyent (@iphilar) was rewarded with a Barça shirt with the inscription #igersFCB on the back.

Instagram, 5 million photos a day

Instagram is a photographic social network for iPhone and Android Smartphones created in 2010 and with more than 50 million users around the world. Recent studies suggest that around 5 million pictures are upload every day, and imags are organised and voted for using labels identical to those used on Twitter. Hashtags such as #FCB, #FCBarcelona, #FCBlive and #Messi are commonplace on Instagram, and generate loyalty among Barça fans on this social network that was recently acquired by Facebook.