Ticket prices
Prices according to match category
The prices of tickets vary depending on the category of match (D, C, B, A, A+ League, A+ Champions League or A++). The category of each League match can be seen in the attached table.
Discounts for members
In all matches of the season, with the exception of the game with Real Madrid and possible matches in the final rounds of the Copa del Rey and European competitions, members get a 20% discount on the cost of the first ticket. For some matches, promotions can be even better.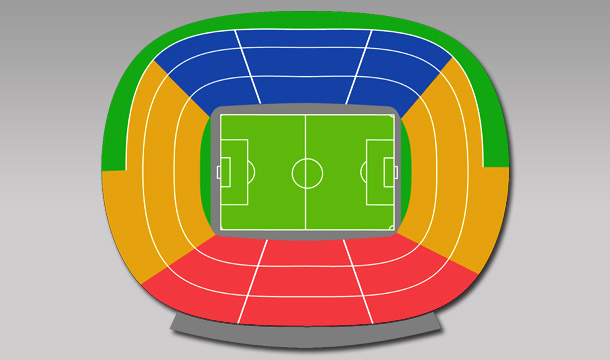 *Dates of this table are not definitive, check the game profile.
We advice to check as well General Information
FCB - BAYERN MUNICH 1/2 CHL
Public
Members Disc. 5%

Grandstand

de 359 a 262 €
de 341 a 249 €

Lateral

de 287 a 144 €
de 272 a 137 €

Goal

de 119 a 97 €
de 113 a 92 €

General

91 €
86 €
A++ Category

| | Public | Members Disc. 5% |
| --- | --- | --- |
| Granstand | from 218 to 298 € | from 207 to 283 € |
| Lateral | from 163 to 239 € | from 155 to 227 € |
| Goal | from 122 to 149 € | from 116 to 141 € |
| General | from 98 to 112 € | from 93 to 106 € |
A+LFP Category

| | Public | Members Disc. 20% |
| --- | --- | --- |
| Granstand | from 144 to 179 € | from 115 to 143 € |
| Lateral | from 107 to 151 € | from 85 to 121 € |
| Goal | from 79 to 96 € | from 63 to 77 € |
| General | from 64 to 71 € | from 51 to 57 € |
A Category

| | Public | Members Disc. 20% |
| --- | --- | --- |
| Granstand | from 129 to 153 € | from 103 to 122 € |
| Lateral | from 93 to 136 € | from 75 to 109 € |
| Goal | from 71 to 86 € | from 57 to 69 € |
| General | from 57 to 64€ | from 46 to 51€ |
B Category

| | Public | Members Disc. 20% |
| --- | --- | --- |
| Granstand | from 112 to 139 € | from 89 to 111 € |
| Lateral | from 81 to 118 € | from 65 to 94 € |
| Goal | from 59 to 77 € | from 48 to 62 € |
| General | from 46 to 53 € | from 37 to 42 € |
C Category

| | Public | Members Disc. 20% |
| --- | --- | --- |
| Granstand | from 91 to 112 € | from 73 to 89 € |
| Lateral | from 59 to 96 € | from 47 to 77 € |
| Goal | from 46 to 58 € | from 37 to 47 € |
| General | from 35 to 39 € | from 28 to 31 € |
D Category

| | Public | Members Disc. 20% |
| --- | --- | --- |
| Granstand | from 59 to 81 € | from 47 to 65 € |
| Lateral | from 45 to 65 € | from 36 to 52 € |
| Goal | from 29 to 42 € | from 23 to 34 € |
| General | from 19 to 25 € | from 16 to 20 € |