Enjoy all information about the Champions League Match at Camp Nou
20:19 - The FC Barcelona players warm up on the pitch of the Camp Nou.

19:50 - UEFA announces AC Milan's line-up: Abbiati, Abate, Mexes, Zapata, Constant, Montolivo, Ambrosini, Flamini, Boateng, El Shaarawy and Niang
19:45 - Line-up confirmed! Valdés, Dani Alves, Piqué, Xavi, Villa, Iniesta, Messi, Mascherano, Sergio, Pedro and Jordi Alba

19:20 - The Camp Nou opens its doors to FC Barcelona members and fans. The stadium needs to be full by 20.45.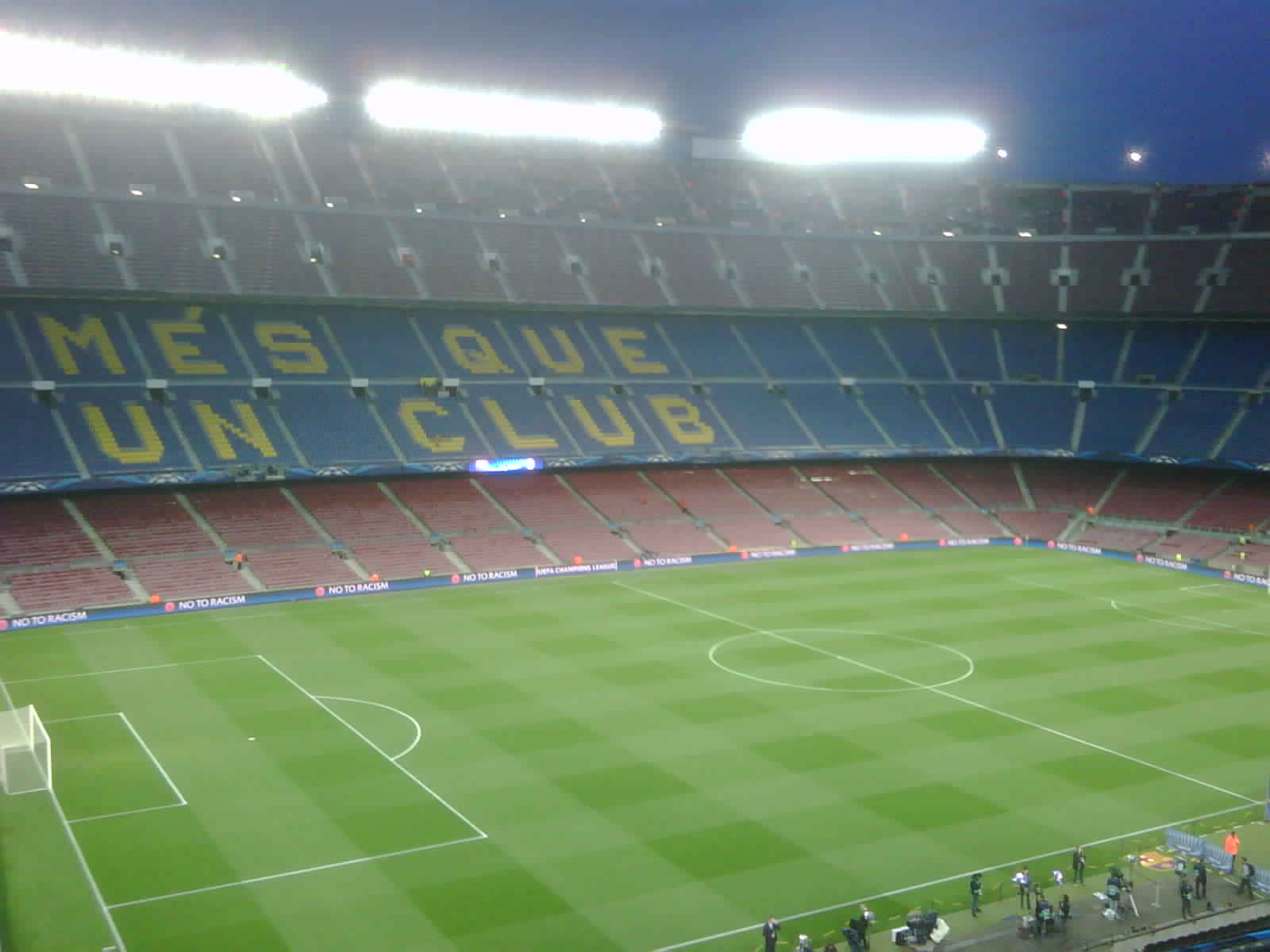 19:11 - The team arrives to the stadium.
18:47 - The team makes its way to the Camp Nou. Kick off is less than two hours away.
18.30 - The Camp Nou opens its doors to the 5,000 AC Milan fans. FC Barcelona's fans will be allowed entry shortly.
18.25 - The players enjoy a snack together at the team hotel. They will depart for the Camp Nou in 30 minutes.
17:30 - There are a total of 745 accredited journalists from 147 countries; 69 of them are from Italy, representing 37 press outlets.
14:02 - The players eat together at the hotel. Kick off is under seven hours away.

14:00 - The directors of FC Barcelona and AC Milan are eating together at the Mercer hotel. Sandro Rosell, FC Barcelona president, and Adriano Galliani, vice-president and CEO of AC Milan, represent each club. The lunch is also attended by Sune Hellströmer, UEFA delegate, and Pietro Sabastiani, Italy's ambassador to Spain.

13:45 - Club staff are distributing the 90,000 pieces of the mosaic around the Camp Nou . This is what the mosaic will look like.

13:37 - The players are passing the time in the motor coach with a game of Parcheesi as the vehicle makes its way to the team hotel.
13:35 - Photo gallery: Training Session at Camp Nou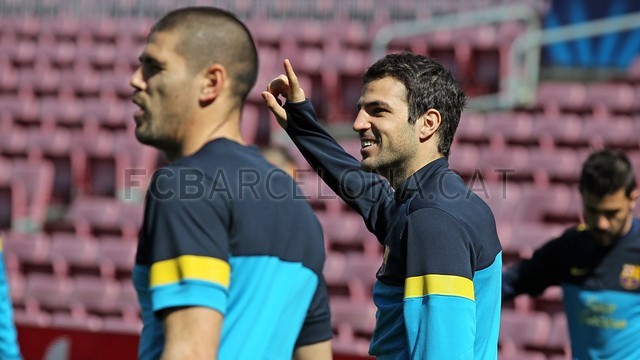 13:30 - Road to the hotel
13:01 - Sergi Roberto support
Avui més que mai a animar al camp! Pot ser un gran dia! #totsunitsfemforça ! #ForçaBarça !! #ViscaelBarça !

— Sergi Roberto (@SergiRoberto10) 12 de març de 2013
13:00 - Xavi Hernández declared fit to play
The team had a gentle training session this Tuesday lunchtime on the Camp Nou pitch ahead of tonight's big game. [+] MORE INFORMATION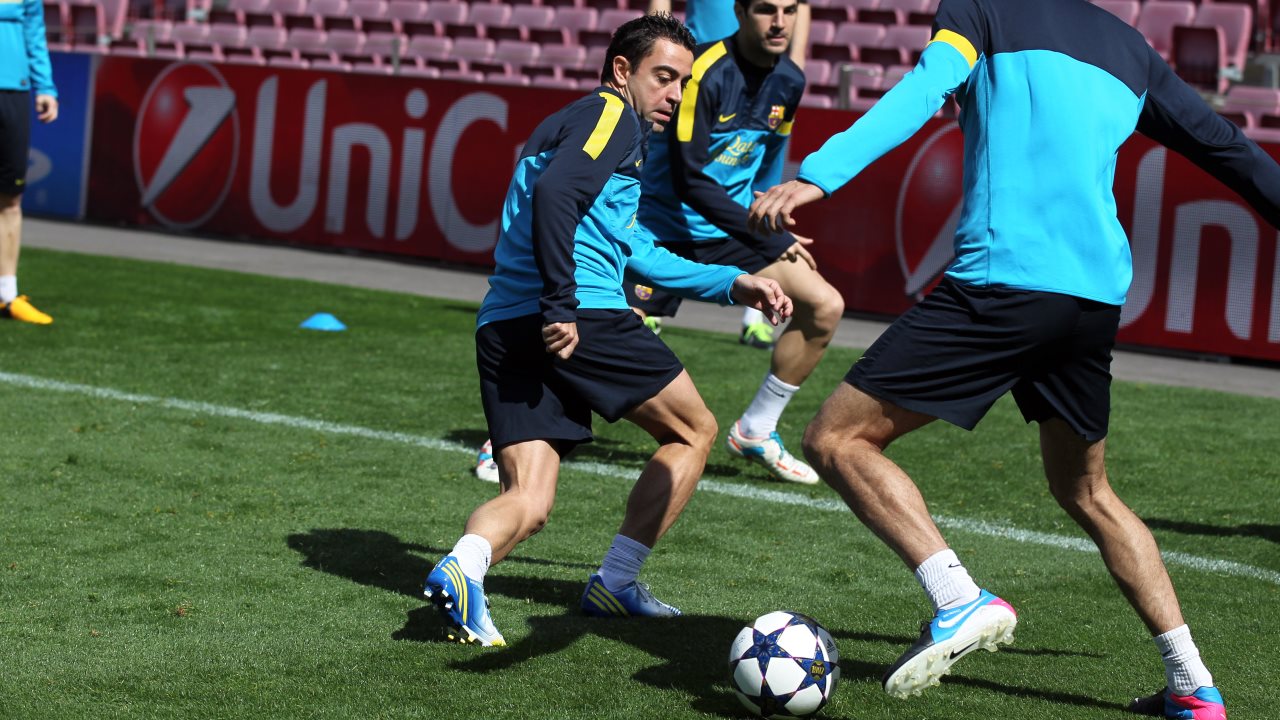 12:45- Xavi Hernández and Andrés Iniesta give their opinions on the upcoming Champions League match against AC Milan on Tuesday. [+] MORE INFORMATION
12:45 - AC Milan's recent record at the Camp Nou
12:15 - Deulofeu support
Hoy puede ser un gran día! Esta complicado pero se va a sacar! #forçabarça #FCB

— gerard deulofeu (@gerardeulofeu) 12 de març de 2013
12:00 - Training Session at Camp Nou
11:45 - Great European Nights at Camp Nou [+] MORE INFO

11:30 - The 19 man squad already in the Camp Nou. In 30 minutes begins the last training before the match
11:00 -  The players leave the hotel to Camp Nou. Training Session at 12:00 (CET)
Buenos días! En el bus camino al Camp Nou para un entrenamiento suave antes del partido de esta tarde/noche.#AporLaRemontada

— José Manuel Pinto (@13_Pinto) 12 de març de 2013
09:00 - FC Barcelona - AC Milan: Did you know...
08:00 - FC Barcelona vs AC Milan: Night for magic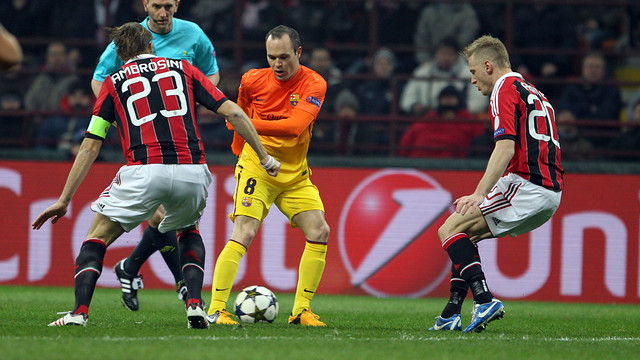 06:30 - FOLLOW THE CHAMPIONS LEAGUE MATCH IN YOUR OWN LANGUAGE

Remember you can follow the clasico of the Spanish Cup in your own language. Our website is now available in seven languages (catalan, spanish, english, japanese, french, chinese and arabic).

You can always follow the game on our social networks: Facebook and in our six official Twitter accounts:

@fcbarcelona (English)

@Fcbarcelona_cat (Catalan)

@FCBarcelona_es (Spanish)

@FCBarcelona_fra (French)

@FCBarcelona_ara (Arabic)

@FCBarcelona_jap (Japanese)
06:00 - FC Barcelona vs Milan, the best videos
 - 19 players named to FC Barcelona's team, including Xavi Hernández
- Roura: "We need to have cool heads, we cannot lose our focus"
- Piqué: "We can do this and much more"
- FC Barcelona v AC Milan, Head to head again three weeks later