The Ciutat Esportiva Joan Gamper boasts in the La Masia-Centre de Formació Oriol Tort a unique residential building, for both its uses and its architectural style
The new building is characterised by its functionality, the comfort it provides the residents and the fact that it can grow in line with the Club's needs.
The building occupies 6,000 square metres, split over five stories -three of which are used by the youngsters' academy and the other two reserved for future uses. The work on the building has lasted for 19 months (from December 2009 until July 2011).
The building cost 8.8 million Euros, in addition to 2.3 million in taxes and fitting out.
Up until last year, the Club housed 60 young sports men and women at the old Masia, divided between the  Masia de Can Planes (12 residents and the space below the  Gol Nord at the  Camp Nou (48 residents). The new centre in the heart of the Ciutat Esportiva has a capacity for 83 youngsters.
The rooms are distributed over two floors  - the first and second – with room for 2 or 4 residents and a number reserved for single use. Each room has a bed, a wardrobe, a fully equipped bathroom and a desk for studying at. A number of rooms have special beds for the taller players of basketball and handball and some have also been adapted for physio work.
Ease of use and rationality are two of the key concepts behind the building. An example of this is the ground floor, which integrates the kitchens, a self-service restaurant, admin offices, extra homework rooms and free space for the youngsters to relax in. This aims to not just improve the conditions for the youngsters, but also the conditions in which those who look after them can work in. Cooks, admin personnel and the management of the new Masia can all enjoy the best possible conditions to carry out their work, without ever losing the family feel of the institution.
Your brand on the facade of La Masia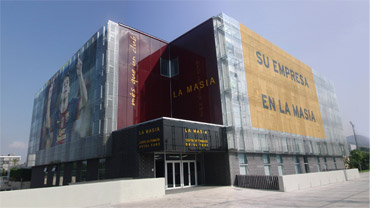 Without a doubt the facade of La Masia can be an unprecedented and impacting means of communication for your business. Thanks to the agreement between FC Barcelona and the specialised business MCM, you have the opportunity to showcase your brand on the external walls of the emblematic building.
For more information and reservations: www.mcmpublicidad.es